Bridgton Highlands Tennis
Maine Tennis Courts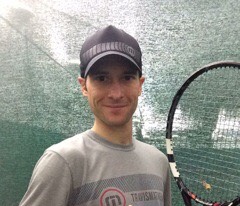 Featuring four outdoor tennis courts – one completely renovated in early 2015 — the Bridgton Highlands Tennis Program is directed by Justin Chaffee. Justin's tennis teaching background has included being the assistant tennis professional at the prestigious Onteora Club in upstate New York, where he studied under the elite USPTA tennis professional Jonathan Spear. He was also a tennis instructor at the top-rated adult tennis camp, New England Tennis Holidays and is currently the assistant tennis professional at Cranmore Fitness Center. Justin's teaching
methods are simple and modern and he promises to help you enhance the experience of your tennis game! Justin's playing background has included four years of Varsity Tennis for Fryeburg Academy as well as four years at the collegiate level for the University of Southern Maine.
Justin is dedicated to providing the finest instruction program for players of all ages and abilities. His program is based on his passion for the lifetime sport of tennis and the desire to give amateur and experienced players the very best coaching and teaching so they may improve their game and enjoy the sport for many years.
Contact Justin at 207-256-2313 or at: justinC1984@gmail.com